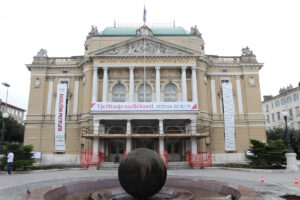 In light of the current coronavirus pandemic, the Rijeka Theatre has decided to act responsibly and in solidarity with its audience, citizens of Rijeka, and the wider community, especially the most vulnerable who are either at high risk or on the front lines of defense against COVID-19.
As is well-known, a theatre without the public gathering of a large number of people is unimaginable, as the true essence of theatre is social contact and the collective experience of a theatre act, which is why we were among the first to cancel our programs.
Additionally, due to the specificity of theatre work, some of our ensembles cannot continue their usual work, as their operations involve gathering a wide variety of people (orchestra, choir) and physical contact (ballet ensemble).
Nevertheless, we decided that, as long as some work in public institutions is not yet completely banned, we would reorganize and harness our creativity to continue to work and act with responsibility and unity.
Zajc With You
"Zajc With You", an online program of Rijeka's CNT, is a temporary virtual theatre company in which the theatre hangs out with you during the circumstances in which they cannot invite the audience to the theatre.
From March 20th, their actors and actresses have selected and recited poetry for people; opera artists have performed arias and songs with dedications and messages of encouragement; they told children fairy tales and fables, sang lullabies, and ballet soloists performed their solo bits in an empty theatre, which they recorded and shared with public. They also opened the doors of the theatre archives, and the late evenings provided the opportunity to see some of the extraordinary dramatic performances of Rijeka's Croatian National Theatre in recent seasons.
Now, they are working on prepare a new program, "Zajc With You 2." Until then, in this short break, they continue to travel with the audience through the Zajc Time Capsule.
Text from:  Croatian National Theatre