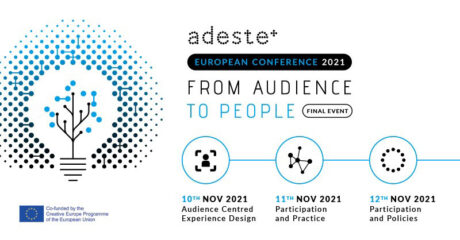 FROM AUDIENCE TO PEOPLE – Unlocking the Power of Culture will be the final Adeste+ event – a European Conference and a Policy Forum that will take place both on-site and online on the 10th, 11th and 12th November. A hybrid event with two gathering spots. On the one hand, Adeste+ partners and keynotes will meet face-to-face in Turin, but on the other hand, Adeste+ will articulate digital participation to catch up with cultural organisations from all over Europe and share experience, practice and thoughts. Registation is here.
The Adeste+ European Partnership is finally ready to unveil the ACED model for Audience Centred Experience Design after testing it with dozens of cultural organizations and hundreds of professionals. The ACED is a blueprint for organisational change to support cultural organizations to become more audience-centred. It's also an online platform to guide professionals through experiences, resources, tools and to connect with their communities.
We are happy to announce this opportunity to openly discuss together what is needed to unlock the power of culture in Europe and make it more relevant and accessible to citizens and communities. Whether we call them "audiences" or something different, culture is about people.
Over the course of the project, through our conferences and events, we explored several perspectives on cultural participation by starting conversations around cultural democracy, how we can define change, and how critical it is to open up cultural organizations to more diverse and active participation. Changing is hard, but not impossible. And since the pandemic changed everything, these principles and ideas are not only still valid, but critical stepping stones to envisaging a sustainable future for Europe, with culture and creativity at the heart of it.
With this in mind, we designed our final conference.
1st day
First, we will explore how our blueprint works, to then open a conversation on the potential of design-based approaches as "relational" tools to spark change and push individuals and organizations to shift perspectives.
2nd day
Second, the conference will gather some of the long-standing European-funded projects that, in the frame of the European priority on "audience development", have tackled the same issue as Adeste+ but from slightly different perspectives. Whether through artistic co-creation, digital strategies, storytelling, participatory approaches to organisational innovation, we all have explored, tested and reviewed different solutions to answer the same challenges. The learning from these experiences must be the starting point for a shared understanding of what is needed to foster cultural participation in the future.
3rd day
Finally, research and practice are fundamental, but no change is possible without policies. What is the future of cultural participation in cultural policies like? A set of recommendations for supporting the cultural sector in fostering participation will be presented and discussed by experts and policymakers, looking for the right conditions to turn the European values into practice.
All information about this final event is here.