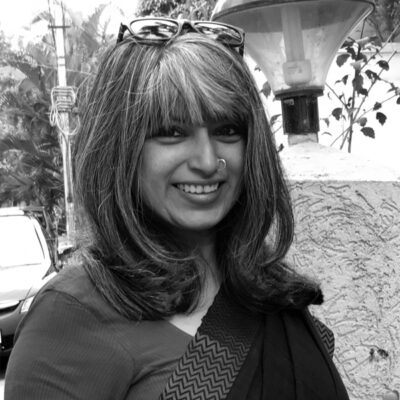 Arundhati Ghosh is the Executive Director of India Foundation for the Arts (IFA). She received recognition from several quarters for her work in the non-profit sector. In 2010 she received the Global Fundraiser Award from Resource Alliance International, the same year IFA won the 'India NGO of the Year' award. She is a recipient of the fellowship under Chevening Clore Leadership Awards in the United Kingdom (2015-2016) and of the Chevening Gurukul Scholarship for Leadership and Excellence at the London School of Economics in 2005. She is a Fellow of the Salzburg Global Seminar and a facilitator for their Young Cultural Innovators programme. She sits on various Boards and Advisory Panels including the Beyond Sight Foundation, Mumbai; The Seagull Foundation for the Arts, Kolkata; and The Museum of Art and Photography (MAP), Bangalore. She speaks and writes on arts and philanthropy for leading Indian and international non-profit and cultural networks including On the Move, Kelola Foundation, IFACCA, The Arab Fund for Arts and Culture (AFAC), Kultura Nova Foundation, among others. She has a Bachelor's degree in Economics from Presidency College, Kolkata and a postgraduate degree in Management from the Mudra Institute of Communications Ahmedabad. She also has a degree in classical dance and is a poet in Bangla.
Topics
Panellists: Nico Carpentier, Richard Evans, Arundhati Gosh, Olga Wysocka. Chair: Inês Bettencourt da Câmara. Presenters: Melissa Dibble, Søren Friis Møller, Marcin Poprawski, Daniel Wetzel (Rimini Protokoll).
This session looks at what will happen when we open our doors and step back into the world. It looks at what could be the role of culture in our new lives and what we have learnt or could learn from this pandemic moment. Where do our past and current experiences meet? What is yet to be clarified? And what strategic foresight can we bring to our decision making processes? When we think about cultural events or audience development, we focus primarily on the social dynamics of physical encounters. Recent circumstances have shown us that alternatives exist. How do we deal with the fearful environment of the new normal and turn this into a new optimistic vision. This final session looks at what new knowledge we have acquired, what additional value it has added and in light of this, the different strategies needed to encourage participation, engagement and audience development.