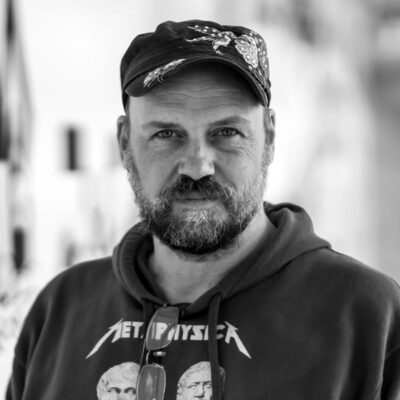 Daniel Wetzel is member of German-swiss artist's label Rimini Protokoll based in Berlin. Since 2000, they have created more than 130 different works the fields of performing arts, live art, radio, installation. Central to their work is the further development of art and performing arts to allow for unconventional views on our reality. From the beginning the mode of participation of the visitors has been a key element for their experiments and developments, as well as the biography of what they call "experts in their own kind" – people usually detached from the fields of arts, whose experiences and participation had be material and reason for the major part of their theatre and radio oeuvre.  His recent works include the lockup piece  now that we meet again for theatres before they can receive larger amounts of audiences (Athens 2020), the site specific Utopolis (Manchester / Sankt Petersburg 2019), the video Safety Cards 2.0 (Athens 2020) and the cloud performance for teenagers Bubble Jam (Athens 2018). A 37 minutes introduction into their work by Daniel Wetzel can be watched here: Wtf is Life Art, Daniel? (password: factory)
Topics
Panellists: Nico Carpentier, Richard Evans, Arundhati Gosh, Olga Wysocka. Chair: Inês Bettencourt da Câmara. Presenters: Melissa Dibble, Søren Friis Møller, Marcin Poprawski, Daniel Wetzel (Rimini Protokoll).

This session looks at what will happen when we open our doors and step back into the world. It looks at what could be the role of culture in our new lives and what we have learnt or could learn from this pandemic moment. Where do our past and current experiences meet? What is yet to be clarified? And what strategic foresight can we bring to our decision making processes? When we think about cultural events or audience development, we focus primarily on the social dynamics of physical encounters. Recent circumstances have shown us that alternatives exist. How do we deal with the fearful environment of the new normal and turn this into a new optimistic vision. This final session looks at what new knowledge we have acquired, what additional value it has added and in light of this, the different strategies needed to encourage participation, engagement and audience development.
Panellists: Lise Korsgaard, Chiara Organtini, Ben Walmsley, Daniel Wetzel. Chair: Jonathan Goodacre. Presenters: Jeannette Ehlers, Matteo Lanfranchi, WochenKlausur.

This session looks at how participation and engagement in culture is being affected by the new world of crisis and social distancing and how, as cultural professionals, we should respond. At a time when artists and audiences have found new ways to relate to each other, we will look at new modes of engagement, expression and participation. On the other hand, it is clear that digital, online communication is not a panacea for all our problems. There are those who cannot or do not want to participate in this way and in addition, the aesthetic experience of culture in a physical, shared space is one of its most valued aspects. Participation, engagement and audience development have been a focus of experimentation for different artistic and cultural practices, as well as within several managerial approaches. We aim to explore them, search for the creative potential in their overlapping, and see what kind of insight and inspiration these processes can offer us.  We'll explore these issues with the invited speakers, and then follow this discussion with a virtual session of open questions.