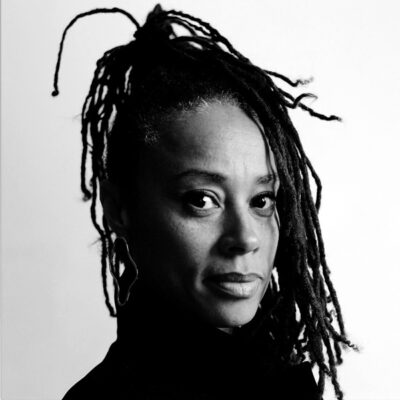 Jeannette Ehlers is a Copenhagen-based artist of Danish and Trinidadian descent whose practice takes shape experimentally across photography, video, installation, sculpture and performance. She graduated from The Royal Danish Academy of Fine Arts in 2006. Ehlers' work often makes use of self-representation and image manipulation to bring about decolonial hauntings and disruptions. These manifestations attend to the material and affective afterlives of Denmark's colonial impact in the Caribbean and participation in the Transatlantic Slave Trade—realities that have all too often been rendered forgettable by dominant history-writing. In the words of author Lesley-Ann Brown, "Ehlers reminds all who participate in or gaze at her work that history is not in the past." Ehlers insists on the possibility for empowerment and healing in her art, honouring legacies of resistance in the African diaspora. She merges the historical, the collective and the rebellious with the familial, the bodily and the poetic.
Topics
Panellists: Lise Korsgaard, Chiara Organtini, Ben Walmsley, Daniel Wetzel.
Chair: Jonathan Goodacre.
Presenters: Jeannette Ehlers, Matteo Lanfranchi, WochenKlausur.
This session looks at how participation and engagement in culture is being affected by the new world of crisis and social distancing and how, as cultural professionals, we should respond. At a time when artists and audiences have found new ways to relate to each other, we will look at new modes of engagement, expression and participation. On the other hand, it is clear that digital, online communication is not a panacea for all our problems. There are those who cannot or do not want to participate in this way and in addition, the aesthetic experience of culture in a physical, shared space is one of its most valued aspects. Participation, engagement and audience development have been a focus of experimentation for different artistic and cultural practices, as well as within several managerial approaches. We aim to explore them, search for the creative potential in their overlapping, and see what kind of insight and inspiration these processes can offer us.  We'll explore these issues with the invited speakers, and then follow this discussion with a virtual session of open questions.