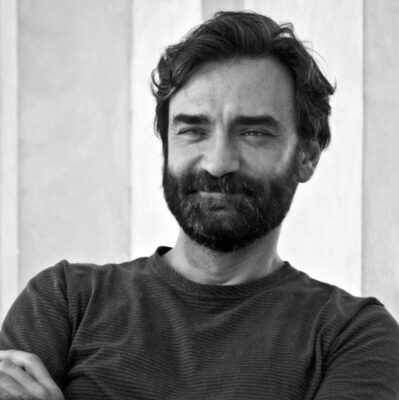 Lanfranchi's artistic and professional life started on stage, as an actor. After many years of experience with Italian and foreign directors he decided to set up a company, to develop a way of doing theatre able to question its own canons. He was lucky to meet amazing companions on the journey, with whom he has also developed strong friendships. He is curious by nature and a sponge when it comes to information. Sometimes, as he observes the reality around him, he gets ideas that he wishes to develop with other artists within the group. He loves to have fun with his work and knows that if he loses his sense of irony, then he has taken a wrong turn. When everybody's eyes sparkle, he knows he is on the right track. His time is the present, the world is where he belongs, gratitude is his favourite feeling and human beings and the interactions amongst them, what he cares for dearly.
Topics
Panellists: Lise Korsgaard, Chiara Organtini, Ben Walmsley, Daniel Wetzel.
Chair: Jonathan Goodacre.
Presenters: Jeannette Ehlers, Matteo Lanfranchi, WochenKlausur.
This session looks at how participation and engagement in culture is being affected by the new world of crisis and social distancing and how, as cultural professionals, we should respond. At a time when artists and audiences have found new ways to relate to each other, we will look at new modes of engagement, expression and participation. On the other hand, it is clear that digital, online communication is not a panacea for all our problems. There are those who cannot or do not want to participate in this way and in addition, the aesthetic experience of culture in a physical, shared space is one of its most valued aspects. Participation, engagement and audience development have been a focus of experimentation for different artistic and cultural practices, as well as within several managerial approaches. We aim to explore them, search for the creative potential in their overlapping, and see what kind of insight and inspiration these processes can offer us.  We'll explore these issues with the invited speakers, and then follow this discussion with a virtual session of open questions.