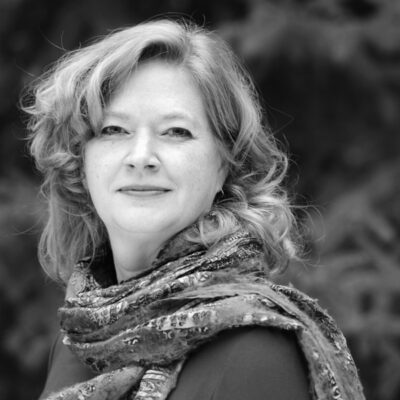 Except for her first job, Melissa Dibble has always found herself in newly created positions, and she acknowledges she is most comfortable starting from scratch, building functional frameworks to support conceptual ideas. She graduated from Boston University in 1990 with a degree in flute performance, but decided not to pursue a performance career. Instead, she spearheaded community programs at the Pittsburgh Symphony and the St. Louis Symphony. She joined EmcArts in 2002, where she, in addition to serving as Managing Director until 2019, is a lead facilitator for many of EmcArts' programs.  She has worked with organizations large and small, in all arts disciplines, across North America. These organizational partnerships foster adaptive change by facilitating Innovation Teams across multi-month processes of exploration, experimentation and emergent new behaviors and practices include the Public Theater in New York City, Galveston Historical Foundation in Texas, Discovery Place in Charlotte, NC, and Tapestry Opera in Toronto, among many many others. She has also delighted in working with first time executive directors through EmcArts' Arts Leaders as Cultural Innovators (ALACI) program in multiple cities, guiding their journeys to develop their adaptive leadership understanding and practices.
Topics
Panellists: Nico Carpentier, Richard Evans, Arundhati Gosh, Olga Wysocka. Chair: Inês Bettencourt da Câmara. Presenters: Melissa Dibble, Søren Friis Møller, Marcin Poprawski, Daniel Wetzel (Rimini Protokoll).
This session looks at what will happen when we open our doors and step back into the world. It looks at what could be the role of culture in our new lives and what we have learnt or could learn from this pandemic moment. Where do our past and current experiences meet? What is yet to be clarified? And what strategic foresight can we bring to our decision making processes? When we think about cultural events or audience development, we focus primarily on the social dynamics of physical encounters. Recent circumstances have shown us that alternatives exist. How do we deal with the fearful environment of the new normal and turn this into a new optimistic vision. This final session looks at what new knowledge we have acquired, what additional value it has added and in light of this, the different strategies needed to encourage participation, engagement and audience development.