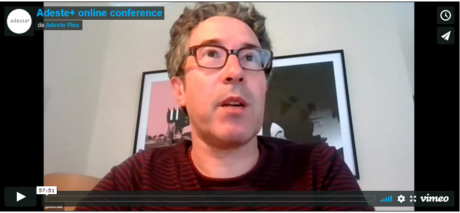 European Conference – 1st episode: Culture's place in our lives – LongTable session
Adeste+
September 2020
The fist episode of the European Conference focused on the place culture has in our lives. COVID-19 crisis has an impact in all dimensions of our lives but is hitting the cultural life of our communities very severely. The cultural sector faces an enormous challenge, nevertheless it is necessary to think culture beyond the emergency.
Cultural sector needs to make culture relevant by linking culture to the big societal challenges. Cities can have a prominent role in leading change, but policies at the local level are written without taking into account many actors and organisations working with those challenges. Is the cultural sector ready to work in a cross-sectorial way? How can we build this connection?
Valentina Montalto, Jordi Pascual and Lene Struck-Madsen were the LongTable moderators.
Keywords: Audience research, Covid-19, accessibility, adaptation, community, cultural democracy, democracy, diversity