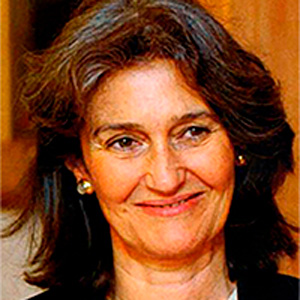 Teresa Patrício Gouveia has been Trustee of the Calouste Gulbenkian Foundation since November 2004 and member of the Supervisory Committee of the Partex Oil and Gas (Holdings) Corporation.
She was Secretary of State for Culture (1985-90), Secretary of State for Environment (1991-93), Minister for Environment (1993-95), Minister for Foreign Affairs (2003-04) and member of the Portuguese Parliament for the Social Democratic Party (PSD), from 1987 to 2004.
She was President of the Serralves Foundation, Oporto (2000-03), and member of its Executive Board since 1997. She was Governor and member of the Executive Committee of the European Cultural Foundation, Amsterdam (1990-2002), President of the Council for Cultural Cooperation of the Council of Europe, Strasbourg (1985-87), member of the Consultative Councils of the University of Lisbon (2007-08) and of the daily newspaper «Público» (1990-91, 2002-03), and member of the Portuguese National Orders Council (2001-11, by appointment of the President of the Republic).
Teresa Gouveia is member of the ECFR-European Council on Foreign Relations (London) and of the EFLG-European Former Leaders Group (France).