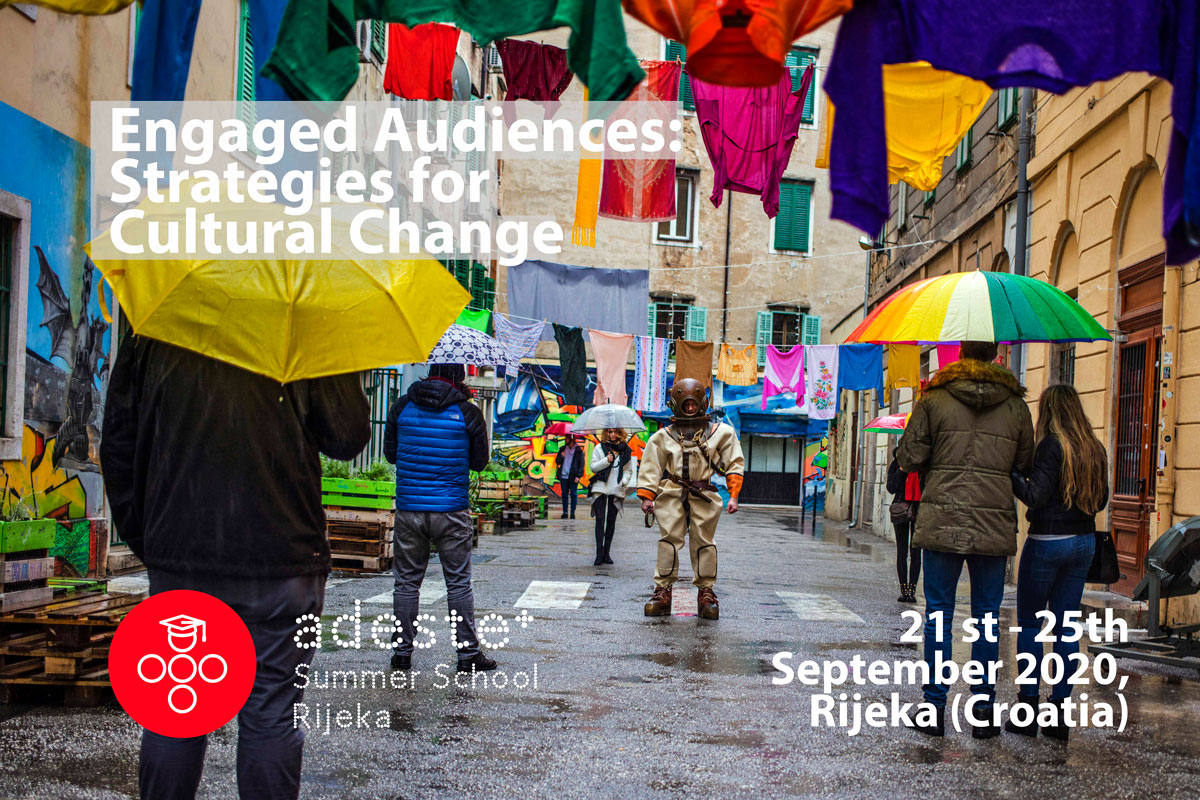 We are very happy to announce the second ADESTE+ Summer School in Croatia:
"Engaged Audiences: Strategies for Cultural Change"
 will take place from 21st to 25th September 2020 in Rijeka.
In 2020 Rijeka is the European Capital of Culture and it will become the centre of significant and extensive events of culture and the Arts.
The Summer School and Conference in Rijeka will address the difficulties we face as cultural managers, when it comes to changing cultural institutions and practices. At the first summer school in Lisbon, it was widely agreed, that cultural institutions need to change their ways if they are serious about leading actual cultural democracy. But how? And to what? Meanwhile, we leave you a small summary of our first summer school in Lisbon. You can find more in our website and our Vimeo channel.
Focus and methodology
In the first three days of the Rijeka Summer School, participants will be introduced to various external and internal aspects of audience engagement and organizational changes, while the last two-days, which coincide with the European Conference open to more professionals, will be focused on current challenges and perspectives of participation in culture.
The ADESTE+ Rijeka Summer School fosters a hands-on approach, which introduces participants to the overall conceptual and theoretical framework of audience development and invites them to engage proactively with participating organizations, practitioners and experts.
Participants will be able to create their own knowledge and participation path, choosing activities and themes and participating different laboratories, debates, lectures, discussions, workshops according to their interests and needs.
Participants
The Summer School targets national and international practitioners and policy makers active in the arts and culture field at the local, national and international levels.
Participants should be strongly committed to the development of a social understanding of the arts and in the promotion of cultural participation. They can be freelancers or currently work in public institutions, private companies or non-profit organisations.
Program of the Summer School
Registration modes
Participation at the Summer School and Conference is free. The participation at the Summer School is based on a selection process, while the conference is open to all interested parties but it is necessary to register. Please read carefully below for more info.
_
Summer School | 21st-25th September
This Call is open to cultural workers, artists, representatives of cultural organisations, institutions and freelancers working in the field of arts and culture.
In the selection process following criteria will be applied:
Applicant is working in the field of arts and culture.
Applicant has at least two-year experience in arts and/or cultural management.
Applicant has experience in audience development (implementation of minimum 2 AD projects or implementation of activities directed towards AD for at least 18 months).
After meeting assessment criteria applicants will be given priority according to the order of application submission. Selection will be led based on geographical diversity as well as diversity of sectors and disciplines.
Application must be submitted via online Application form.
Submission deadline is 8th of April 2020.
All the applicants will be informed about the results of the selection procedure by May 6th 2020.
Number of participants is limited to 120.
The applications will be evaluated by ADESTE+ partners.
Application form for the Summer School (& European Conference)
_
European Conference | 24st-25th September
This Call is open to scholars, researchers, theoreticians, cultural operators, artists, practitioners, activists, policy makers and decision-makers working in the field of arts and culture as well as audience interested in arts and culture.
Participation at the European Conference is free. All the participants will have to cover their travel and accommodation costs as well as meals. Organizer will provide refreshments during the event.
Registration must be submitted via online Registration form.
Registrations will be open until 10th September 2020 or until all available places have been reached.
All registered attendants will receive confirmation message on their e-mail stated in the Registration form after submitting the online form.
Number of participants is limited to 350.
Registration form for the European Conference
Keynotes and moderators
Confirmed speakers
Nico Carpentier
TeodorCelakoski
Maria Chiara Ciaccheri
Mafalda Damaso
Melissa Dibble
Richard Evans
LiseKorsgaard
Andreja Kulunčić
Davor Mišković
Raul Ramos
Goran Tomka
Daniel Wetzel
Olga Wysocka
Ana Žuvela
Rijeka 2020 (programme)
The Adeste+ Summer School and Conference are developed in partnership with Rijeka European Capital of Culture 2020, and the events are part of its official programme. Check out here what will happen in Rijeka in this vibrant 2020.
Agenda
Rijeka Summer School & European Conference Tentative Programme
---
Applications
---
Deadline
Summer School April 8th, 2020.
European Conference September 10th, 2020.
---
Logistic
Participation at the Summer School and European Conference is free. All the participants will have to cover their travel and accommodation costs as well as meals. The organizers will provide refreshments during the events.
Accommodation information here.
---
Working language
English
---
Venues
---
More info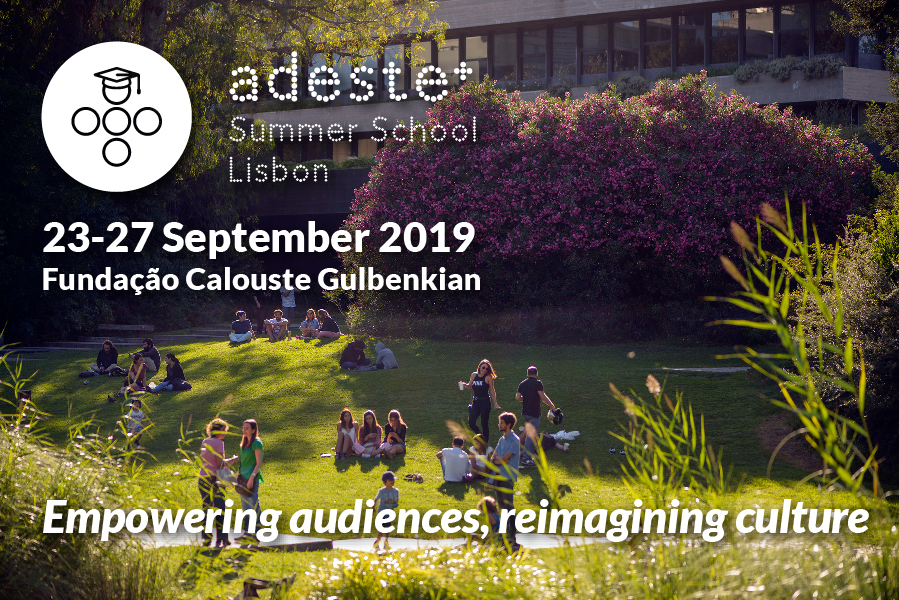 Rijeka 2020 – European Capital of Culture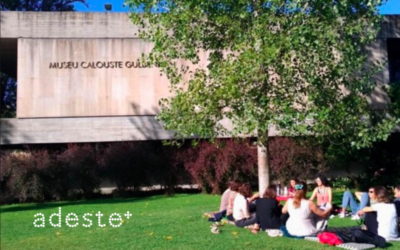 Due to this emergency the ADESTE+ Summer School and European Conference will be moved to the digital sphere, instead of being held in Rijeka, as...
The ADESTE+ Rijeka Summer School is addressed to culture professionals, organizations, institutions and policy makers, gathering and working together on audience development: 5 days of workshops, laboratories, debates and encounters with keynote speakers, experts and practitioners coming from across Europe. A unique chance for acquiring knowledge and information, exchanging expertise and experiences and getting inspiration in a nurturing and professional environment.
Sharing
Stimulate sharing of knowledge and experiences among participants, experts and professionals from different fields interested in audience development and organizational change.
Training
Providing participants with tools to interpret case studies as well as local, national and European projects and practices aimed at increasing cultural participation in Europe.
Connecting
Provide a platform for connecting critical thinking around cultural democracy and the relevance of culture in the future of Europe and cultural participation.
Understanding
Contribute to an increased and deeper understanding of the common challenges that cultural organisations are facing in the European space.
Engaging
Foster networking and debate amongst organizations, professionals and policy makers.
ADESTE+ Rijeka Summer School is the second one of a series of 3 that will be developed in 2019 // 2020 // 2021, in the framework of the ADESTE+ project.
ADESTE + is a large-scale European cooperation project co-funded by the Creative Europe Programme of the European Union aimed at expanding cultural participation by bringing the audience to the centre of cultural organisations.